Many organizations look to build brand awareness or usability of their service or product through mobile apps. Some of them succeed in doing this effectively by relying on the virality factor. Users want to willing share the app or it's content over the internet, with their social networks and even offline with their friends and family. Thus building the brand of the organisation and attracting thousands of potential customers to the the original service or product. In very successful cases, where the apps are designed and developed in the right way, the  brand building is so effective, that they cannot be achieved alternatively given sky-high marketing and advertising budgets.
Firstly, for a mobile app to potentially become viral, there must be some content worth sharing in it. For instance, an achievement, a fact, a story, infographic, etc. that appeals to the user to share it with others. Secondly, sharing content / app should be made super easy feature to use. Providing incentives for users who share also increases engagement. Most importantly, there should be a value add that the app provides to the user, tangible or intangible (entertainment could be one), that makes people use the app over again and again. These are some characters that set off an app on something described as the viral loop which makes multiple users share the app / content over and again.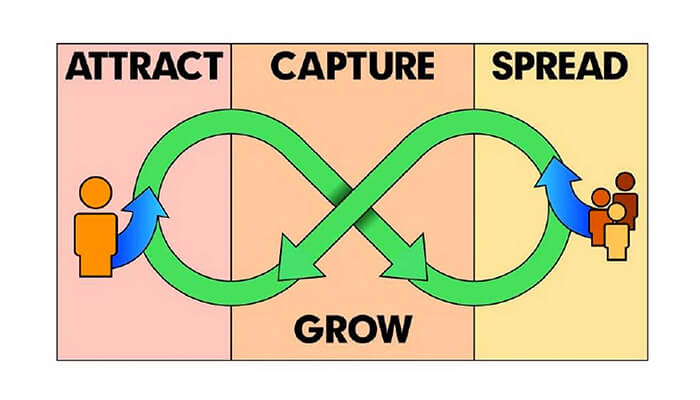 Image via Jeff Jeffryes
With over 2.2 million android apps and 2 million iOS apps (Source: Statista) and everyone scrambling towards creating a viral loop, giving your mobile application an authentic reason to be shared can be quite challenging. While a lot of them end up being games and typically 'fun' applications, there are several ways to make your mobile application viral by building it in the correct way. Here are some strategies that you can use to make your mobile applications go viral:
Get the Basics Right
Most app users cringe at the thought of lengthy sign-in processes and content that is difficult to share. Let's face it, today we cater to much shorter attention spans and an app that is difficult to use cannot create a viral loop. Some of the basics that can go a long way in making your app viral are:
Easy Onboarding – Nobody wants their new app experience to begin with a long sign-up page. Make sign-ins easy through one click sign-ins such as in the Pinterest app or other simple sign-in procedures. Moreover, it may be a smart move to allow the user to browse the application without requiring him to sign-in in the first place. A lot of users just want to see what's within the app on the first usage; so postponing the sign-in to a transactional or user input stage is strongly recommended. For example, many popular e-commerce apps only ask for a user login when the user wants to checkout his cart.
Easy sign-in on SnapChat                         One-click sign-in on Pinterest
Make it easier to Invite others – Viral applications are most often meaningless without an individual's network on it. Design your app's user experience such that your consumers can easily find their friends in it. Some apps leverage contacts or phone book to show users and make it easier to invite others for example, Whatsapp, Hike Messenger, etc. That being said, the phone contacts should be used utmost carefully and with the permission of the user, as it is easy to upset users when all the people in the contacts get notifications unintentionally.
LinkedIn Allows users to add friends in their network by accessing google contacts
Reminders – While it may be simple to get users to download your app, reminding them to use it periodically, especially in the initial stages can help set in a habit. You may do this by scheduling contextual push notifications, perhaps sharing an interesting post or news with the user.
Notification campaigns by 8tracks apps
Some apps even go to the extent of sending daily quotes as push notifications and hence triggering user engagement with the apps. Figure out what would best work as push notifications for your app.
Super Easy Sharing – Enable users to share content across social media platforms with a single tap. Thus you get to tap into their audiences across social platforms. You may also want to explore allowing to share some aspects of user information (of course with user's permission). Few apps have an automatic sharing mode, for example Facebook has a feature called Nearby friends. Turning on this features shares your live location with your friends, so your friends can see exactly where you are at a given time.
Make Transparency a Priority
With any viral application, security often becomes a cause for concern for users. While you use data, be honest about what data you are sharing and at the same time give users the choice to share the data. This will help consumers to build trust and confidence in the app. Lack of control for users may make them hesitant to use the app and may even lead to negative app reviews.
Try to make your app free –  If you plan to create a viral app, you will most likely have to give up on the thought of generating revenue through direct app downloads. Once an app comes with a price tag, however little that amount may be, making it viral becomes very difficult. You can instead plan to generate revenue through other ways such as in-app advertisements or through the service being provided within your app.
Positive reinforcement –  Rewarding your users often can create a positive reinforcement amongst your existing app users. You can reward them not just for using your app but for inviting other users on to it. Rewards could be in the form of discounts, free upgrades, 'lives' in games, points, free themes and the like.
Keep bringing your users back in –  Once a user has downloaded an application, there should be effort in ensuring that they use the app with the same enthusiasm as when they downloaded it. Constantly reminding users through notifications, introducing new features or announcing competitions are some ways you can keep your app users motivated over a longer period.
The creation of a successful viral loop in a mobile application lies in its design. The app needs to be engaging, with content worth sharing, while at the same time not being intrusive. The path towards the creation of a viral loop in a mobile app may not be the easiest one, but the efforts can be very rewarding.